Item No.

NM1100

Description

Anti-slip Rubber Mats with Holes

Dimensions

1524 x 914 x 12 mm; 1500 x 900 x 11 mm; 1390 x 850 x 8 mm; 1640 x 1100 x 18 mm;  1500 x 1000 x 22 mm; 

800 x 800 x 18 mm; 800 x 500 x 22 mm; 630 x 420 x 15 mm; 900 x 600 x 7 mm; 914 x 914 x 12 mm

Colors

red, green, black, others available as requests

Material

SBR or NR, can be customized by the requirements of oil proof, acid alkali, anti-static, insulation, inflaming retarding or other special materials

Applications

doormat, kitchen, bathroom, barns, any wet and slippery areas 

Features

non slip surface, easy to install and clean 

For a non-slip and multi-purpose mat, look no further than this anti-slip rubber mat. With large drainage holes across its surface, this mat is ideal for areas that need to be clean as well as have oil resistance properties. 
The soft rubber compound is designed to provide comfort under foot and the hole pattern on the surface of the mat gives traction. Also, combined with its ani-fatigue qualities, makes it the ideal option for industrial kitchens, where chefs are standing for long periods of time.

* This thick, heavy duty mat has done excellent work in kitchens, food processing plants, shower rooms, around swimming pools and behind bars.
* It is compounded to resist grease, oil, acids, and alkalies. 
* Slotted holes provide good drainage.
* This matting gives greater foot-ease and stability.

Reasons for Your Perfect Choice!
* 15 years in manufacturing and exporting rubber flooring industry, complete production lines and advanced equipment
* FAST & FREE samples available for your test
* Guarantee the same quality for mass production with samples
* Quick reply within 24 hours for your inquiry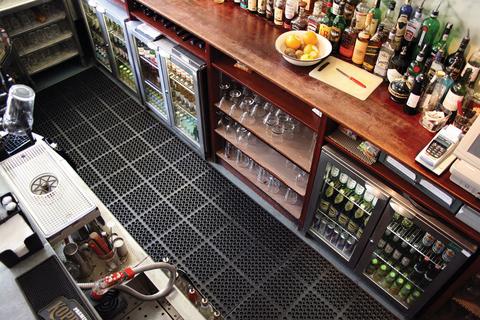 Types of rubber flooring tiles, rolls & mats can satisfy your variety of applications in commercial, industrial and residential sectors.